Kyoutaro Kawachi is the deceased father of Kyousuke Kawachi.
He was a baker who wanted to make healthy food. His family was poor and he worked hard to get into the Pantasia main branch.
He died from an exploding oven.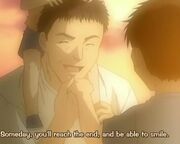 Ad blocker interference detected!
Wikia is a free-to-use site that makes money from advertising. We have a modified experience for viewers using ad blockers

Wikia is not accessible if you've made further modifications. Remove the custom ad blocker rule(s) and the page will load as expected.