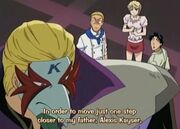 Alexis Kayser was the founder of the Kayser bakery. Gran refers to him as his father, though since he and his brothers Bob and Edward are adoptive siblings (they consider each other brothers because they work in the same company) Alexis may or may not be a genetic relative.
He has not been seen by the time of the end of the semifinals.
Ad blocker interference detected!
Wikia is a free-to-use site that makes money from advertising. We have a modified experience for viewers using ad blockers

Wikia is not accessible if you've made further modifications. Remove the custom ad blocker rule(s) and the page will load as expected.